Tang Diyi (Artistic Director)
Hailed " Vibrantly Musical" " Striking performance" by New York Concert Review, Pianist Diyi Tang is established as one of the leading artists of his native China and his remarkable talent is becoming recognized in United States. Born into a musical Family, Mr. Tang was the youngest pianist from China to win the top prize at Chopin International Piano Competition in Moscow. Mr. Tang made his Lincoln Center debut in Alice Tully Hall with the Mannes Orchestra, playing Chopin E Minor Piano Concerto. He had also performed as a guest soloist with Moscow Symphony, Orchestra National de Lyon, Beijing Symphony, and Shanghai Symphony. A top Prize winner in the 2014 Russian Music International piano Competition and 2012 William Kapell International Piano Competition, Mr. Tang serves as Associate Faculty at CME, The Center for Musical Excellence. Most recently,Mr. Tang was invited to judge Sinovision's American Talent Show, the most popular competition for Chinese American young musicians.
Dr. Marc Silverman
"Exceptional authority and impeccable taste" was the description in the New York Times for the playing of pianist Marc Silverman. Dr. Silverman has performed throughout the United States, Europe, and Asia as a recitalist, soloist with orchestra, and chamber musician. An award winner of the Kapell International Competition, the Gina Bachauer International Competition and the Kosciuszko Foundation Chopin Competition, Dr. Silverman has been Chairman of the Piano Department at Manhattan School of Music since 1989.
Kristin Samadi
Kristin Samadi (Born 1984) is a pianist based in NYC. She is currently on the faculty at Adelphi University as well as the Music Director at St. John's Lutheran Church.

Mrs. Samadi received her Bachelor's Degree in Piano Performance from Adelphi University in the Spring of 2006 under the tutelage of Adrienne Borbely. She graduated cum laude and was the recipient of the James Gould award for Excellence in Music. At Adelphi, Mrs. Samadi was a featured accompanist for the chamber music ensemble, graduation recitals, choral performances, as well as opera workshops. During the Spring of 2005, Mrs. Samadi took part in master classes and performances organized by cellist Kalin Ivanov and pianist Tamara Puddabnaya in Plovdiv, Bulgaria. During 2006 to 2008, Mrs. Samadi studied cello and was a member of Adelphi's Orchestra. In December 2005, she was featured as a soloist at the Weil Recital Hall at Carnegie Hall in December 2005.

Mrs. Samadi completed her Masters Degree (2008) at The Aaron Copland School of Music under the tutelage of Morey Ritt. Continuing her studies, she completed the newly inaugurated Artist Diploma program (2009) at ACSM, Queens College, CUNY. This Artist Diploma was specifically devoted to studying Four Hand repertoire on one piano as well as two pianos.

In addition, Mrs Samadi has also performed internationally as both a soloist and chamber musician, giving performances in Sarola & Lucca, Italy; Hong Kong, China; Plovdiv, Bulgaria; Haiti, various venues in New York City amongst other places. Some highlights of Mrs. Samadi's career include performances of Frank's Symphonic Variations as an alumna at Adelphi, Rachmaninoff's Suite No. 2 for Two Pianos, and the Bartok Sonata for Two Pianos and Percussion.

In addition to her performance career, Mrs. Samadi also has served as a substitute organist and Music Director at various churches in the tri-state area. She served as the Director of Music at Rutherford Congregational Church from 2010-2015. Mrs. Samadi has also studied organ briefly with David Enlow during 2012 (faculty member of the Juilliard School) and Peggy Hsiao (organist at First Presbyterian Church, Rutherford, NJ). She has also studied organ under the late David Smith at Christ First Presbyterian Church in 2008.

Over the years, Mrs. Samadi has also collaborated with flutist Linda Wetherill in concert. She has also served as an accompanist to her flute students during various master classes. Mrs. Samadi has had the honor of performing annual world premieres of new music written by laureates of the Counterpoint Italy composition competition (www.counterpoint-italy.com) organized by Mrs. Wetherill.

Mrs. Samadi also enjoys a successful teaching career, having been a faculty member of Brooklyn Music House, The Piano School of NYC, Long Beach Music, Oceanside Music and has also managed her own teaching studio for the past 16 years. In the Fall of 2011, Mrs. Samadi began teaching as an adjunct Professor at Adelphi University, teaching courses in piano as well as independent studies in form and analysis and private piano instruction. Additionally, she is has also served as a staff accompanist at the Young People's Chorus of NYC, working for non-profit's satellite programs.

Mrs. Samadi has also been collaborating with guitarist Daniel Keene since 2009. The Samadi-Keene Duo (formerly The Barone-Keene Duo) performs regularly in the tri-state area.

In 2015 Mrs. Samadi and her husband Saman Samadi co-founded an International Composition Competition and record company called Samadis'. They recently had a successful winners' concert in March, 2016, and have published the recording on a digital album.

Last year Mrs. Samadi also sought out training with Madeline Bruser (author of "The Art of Practicing") and applies this methodology to her teaching philosophy.
Lin Tan
Lin Tan is a well-known TV presenter, news anchorwoman, and TV program producer. She is currently the chief TV host at New York City based Sinovision, the largest Chinese language TV station based outside of Asia.
Lin obtained her Bachelor's degree from Communication University of China, while attending college, she interned at Oriental Horizon(东方时空), the most influential news program aired on China Central Television (CCTV). After graduation at age 20, she became the host for Charm Frontline, the most popular fashion TV program on Beijing Television (BTV) at the time. During that period, Lin hosted other programs and events, including International Fashion Show, Fashion Follow Me, Beauty of China, Healthy Fashion, and NetEase Celebrities Talk Show of NetEase.
Lin moved to New York City in 2007 to pursue a Master's degree in TV and Film Production. She joined SinoVision shortly after moving to New York City, and quickly became its Chief News Anchorwoman.
Starting in Aug 2012, Lin took over the helm as the host and co-producer for the Sinovision flagship celebrity interview show New York Lounge. A small sample of the guests featured on her show included pianist Lang Lang, artist Cai Guoqiang, former Secretary of Labor Elaine Chao, former GM corporate vice president Shirley Young, financier Oscar Tang ,actors Sandra Ng,Donnie Yen and Zhao Wei, as well as many other world-renowned Chinese and American celebrities and successful personalities. New York Lounge has since been lauded as the most well-known and influential Chinese language TV show produced outside of Asia.
Dr. David Witten
Pianist David Witten has been described as a pianist "with that rare, elusive quality that charms and fascinates the listener." (Redondel, Milan, Italy) Witten's international career has included numerous concert tours in Ireland, Finland, Russia, Ukraine, Europe, Mexico, South America, and China. As the recipient of a 1990 Fulbright Scholar award, Witten spent five months teaching and concertizing throughout Brazil, and he is frequently invited back to give concerts and masterclasses.
Closer to home, Witten's performances have included solo appearances with the Boston Pops Orchestra, the Pro Arte Chamber Orchestra, and various chamber music collaborations with the Shanghai String Quartet, and also with members of the New York Philharmonic and the Boston Symphony Orchestra.
Witten has also been active in contemporary music. He has recorded Piano Music of Nicholas Van Slyck for Titanic Records, and has commissioned over a dozen new works for Soli Espri, a chamber trio he founded in Boston with clarinetist Chester Brezniak and mezzo-soprano D'Anna Fortunato. With flutist Sue-Ellen Hershman-Tcherepnin, Witten formed Dúo Clásico; their recording, Flute and Piano Music of Latin America, was issued on the Musical Heritage Society label. Marco Polo Records released Witten's solo recording, Piano Music of Manuel M. Ponce. His most recent recordings, Piano Music of Nikolai Tcherepnin, and Songs of Nikolai Tcherepnin, with soprano Elena Mindlina, were issued on the Toccata Classics label. Currently, Witten is preparing a solo CD of the piano music of Mario Castelnuovo-Tedesco.
Witten's involvement in music has not been limited to performance. He is the editor of Nineteenth-Century Piano Music: Essays in Performance and Analysis (Garland Publishing, 1997), which includes his landmark analytical study of the Chopin Ballades.
Born in Baltimore, Maryland, Witten received his early training at the Peabody Conservatory, and at the Rubin Academy of Music in Jerusalem. His undergraduate studies at the Johns Hopkins University led to a degree in Psychology. He received his Master of Fine Arts degree in piano performance from SUNY at Buffalo. Later graduating with high honors from Boston University, he earned the degree of Doctor of Musical Arts in piano performance. His most influential teachers have been Tinka Knopf, Benjamin Oren, Reynaldo Reyes, Walter Hautzig, Leo Smit, Anthony di Bonaventura, and Dorothy Taubman. After twenty years as an active recitalist, chamber music pianist, and teacher in the Boston area, Witten accepted a position at the Cali School of Music at Montclair State University, where he is currently Coordinator of Keyboard Studies. He is also Artist Laureate of the Tcherepnin Society.
As an enthusiastic photographer, Professor Witten has won top prizes in several international photography competitions. He has had solo photography exhibitions in Budapest and Milan.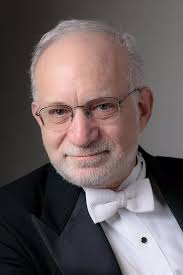 Grace Lin
Chi- Ching Grace Lin, Percussionist
Chi- Ching Lin maintains a varied chamber music and orchestra career in New York City areas. She has performed with New York City Opera, Dicapo Opera, The Met Opera Orchestra, National Choral, Binghamton Philharmonic, Ureak Symphony Orchestra, Park Avenue Chamber Orchestra, New Amsterdam Symphony Orchestra, New York Wind Orchestra, Oratorio Society of Queens, New York Concerti Sinfonietta, SONOS Chamber Orchestra, Centre Symphony, Choral Chameleon, Empire City Men's Chorus, The Harlem Chamber Players, New York Wind Orchestra, Broadway Bach Ensemble, Asian Symphony Orchestra in venue such as Lincoln Center, Carnegie Hall, Jazz at Lincoln Center-Rose Hall, Merkin Hall, Tilles Center, , United Nation Conference Hall, Queensborough Performing Arts Center, Kimmel Center and Version Hall in Philadelphia.

In 2008 and 2013 Chi- Ching premiered Andrew Beall's percussion concerto "Affirmation" at Avery Fisher Hall and Alice Tully Hall Lincoln Center. She also can be found on his percussion album "Deliverance".

In 2018, Chi-Ching will be again premiering a percussion concerto "Higgaion" by Honsal Choi at Alice Tully Hall Linciln Center on 6/9.

As a chamber player, Chi-Ching has appeared in Tan Dun Percussion Quartet, Talujon Percussion Group and 20th Century Contemporary Ensemble.

In 2016 Chi-Ching made her debut in Taiwan with Perclute duo, for percussion and flute. That same year, she also premiered at Tishman Auditorium in New York the soundtrack for the classic movie the " The Birds" from Alfred Hitchcock.

In 2017 Chi-Ching started to collaborate with Hansol Choi and performed his brand new composition for solo vibraphone and electronics at Manhattan School of Music.
Chi-Ching received her Master's degree from Queens College (Aaron Copland School of Music) and Professional Studies Diploma from Mannes College of Music (New School) where she studied with Michael Lipsy, Michael Werner, Jim Priess, Berry Centanni and Glenn Valez.
Chi-Ching is the percussion faculty of CYCNY since 2006.
Helene Werner
A native of Montana, Hélène Werner is a cellist, pianist, and member of the Werner Chamber Quartet with her three siblings. She holds a doctorate from The Juilliard School, a B.A. from Yale University, and master's degrees from the University of Michigan. Her dissertation at Juilliard, "Editors and Critics: A History of Music Criticism in The New Yorker," received the Richard French Doctoral Prize. As a performer, Hélène has been enthusiastically received in concert halls at home and abroad, including Weill Recital Hall, Alice Tully Hall, the Music Guild Concert Series in Los Angeles, the Congrès de Luthiers in France, the Provincehuis in Groningen, Holland, the Peabody Essex Museum in Massachusetts, and at a command performance for Ruth Bader Ginsburg at the Supreme Court. Hélène is an avid enthusiast for both early and contemporary music. She plays the viola da gamba, has performed frequently with the New Juilliard Ensemble, and enjoys developing, playing, and premiering new works. Hélène is also very committed to encouraging opportunities for young musicians and fostering a conversation about the importance of foundation-building in the arts, and in all academic disciplines more generally. In 2016, she co-founded Project Youth, a platform of consulting and educational enrichment resources in math, language arts, cultural studies, and music, for young children and their families.
Prof. Sondra Tammam
American pianist Sondra Tammam has received enthusiastic acclaim for her performances in North America, Europe, Asia, and the Middle East. Ms. Tammam's concerts have taken her to diverse venues including Weill and Merkin Halls in New York, the Harvard Musical Association in Boston, Wigmore Hall in London, the Concertgebouw in Amsterdam, and the Goethe Institute in Casablanca.
She was the first prize winner of the Awerbuch International Competition of the NY Congress of Piano Teachers, the John Meyers Foundation Grant, and the Paderewski Foundation Competition, which awarded her debuts in Europe and New York. Other awards include the Juilliard Concerto Competition, the Kosciuszko Chopin Competition (NY), and the Gold Medal of the National Guild.
Ms. Tammam is the co-Director and co-Founder of the Dorothy Taubman Seminar which has held seminars in New York City from 2003 including CAMI Hall & Lincoln Center and at Temple University since 2008. She has coached with Dorothy Taubman since 1980. Ms. Tammam has served as Associate Professor at the Manhattan School of Music and as Classical Music Coordinator of the Summer Arts Institute at Rutgers University. She is a graduate of the Manhattan School of Music and the Juilliard School, where she received Bachelor and Master of Music degrees respectively on scholarship. Her teachers have included the late Edwin Hughes, Jeannette Haien, Dora Zaslavsky and Rosina Lhevinne.
As an active chamber musician, she has appeared in performances with members of the New York Philharmonic and the Audobon Quartet. She has been featured as soloist with orchestras in the United States and in Italy led by conductors including Sixten Ehrling and Nicholas Flagello. She has broadcast live on WQXR and WNYC in New York and AFN Radio in Germany, and has appeared on WCBS TV "Live" for Music Minus One, WOR and PBS - Bosendorfer Series in NYC.
She conducts master classes and lectures in the US, which have most recently included Dartmouth University (N.H.), Montclair State University(2011),Steinway Hall (Paramus, NJ, Westport CT and Naples FL), and abroad at Taichung University in Taiwan, and in 2010 at Tel Aviv University in Israel. Recent topics for her lectures/demonstrations have included "Memory-Decoding the Black and White", "Developing Strategies for Unraveling Complexities in Passage Work" and "Selected Sonatas of Beethoven - The Pre-College Student's Repertoire Choice".
Ms. Tammam has presented the "Taubman Approach" to the MEANJ, the NJMTNA, NJPTG, PMTGNJ, OMTNA,PMTNA, and the Piano Teachers Congress of N.Y. at Steinway Hall. She was awarded 2 HEART grants from the State of N.J. for ensemble performances. She has appeared at numerous conventions for MTNA and adjudicated for New York début competitions of the Leschetitzky Assoc., Piano Teachers Congress, Golden Key, Music-Fest, Crescendo Competition, and Talented Young Musicians Competition among others.
She has three compact discs which includes selections of Beethoven, Chopin and Liszt on #1, Beethoven's "Appassionata" "live" on The International Piano Festival at Williams"(Palexa) #2, and works by Mussorgsky, Schumann and Ben-Haim (Palexa)#3 . Ms. Tammam is listed in Who's Who of American Women and is represented by Primo Artists, Ltd. The Clavier Magazine (2006) features an article she co-authored titled "The Wisdom of Dorothy Taubman".